Horton Street Historic Chapel
This Chapel was originally built in the 1840s.
A larger church building was built in the early 1960s, and was used until 1995, when the Sherwood Road Worship Centre was opened.  That building and surrounding land has been sold, but the historic Chapel is still used by the Uniting Church - click Port Macquarie Horton St Chapel for further information.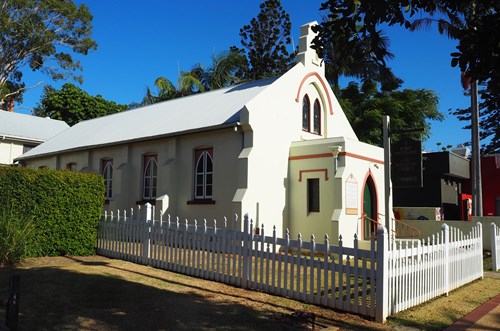 Sherwood Road Worship Centre
Perhaps the biggest challenge to ever face the Port Macquarie Uniting Church's Parish Council was whether to expand the Horton St Church or purchase land and build a new church outside the town's centre. This topic was hotly contested for many years. With more than a century-long family history of attending church in Horton Street many worshippers were reluctant to move elsewhere, but others saw the church building as inadequate at that time and incapable of providing opportunities for expansion into the future. Combined services of the two morning services were not possible on the Horton St site and these were held in the Port Macquarie High School auditorium.
Many proposals to expand the church building to accommodate more people were considered, but were not given the green light. Thoughts of demolishing the hall or the chapel to make way for onsite parking were also raised. The search for new land was undertaken from the early 1980's with many sites investigated until the Sherwood Rd site became an option in 1991. In August 1992 the congregation approved this purchase with the intention of erecting a new building within 3 years. A new development application covering 3 buildings—the worship centre, administration and Lifeline was lodged early in 1994 and in December a tender for construction of the worship centre and administration was accepted. Gary Bannister was the successful tenderer with a quote of close to $1.124 million.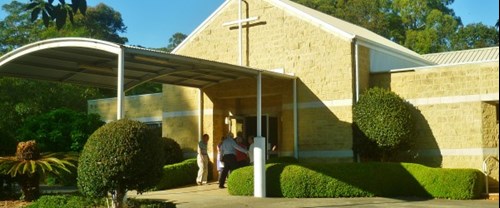 The first sod was turned in January 1995. Construction continued for the next 8 months and the first church service was held on 15 October 1995. The official opening and dedication took place in December. Chris Ireland and Roger Stonehouse were Parish Council chairman and secretary respectively, each holding those positions for the 10 years until the Sherwood Rd worship centre was completed. At that time the proposal was that annual rentals from Coca-Cola over the next decade would pay for the site—but Coca-Cola later advised it was discontinuing its use of the site. Following construction of the worship centre the congregation was told it had a debt of $1.3 million. About half this amount had been paid when the excess land was sold to UnitingCare. That sale extinguished the church debt. Mingaletta was built on that site.