The worship service on 22 March was cancelled in line with actions to reduce transmission of the coronavirus.  Below is the content prepared for that service by Rev Lofa Anga'anelangi.
---
2020 Theme - Speculation vs. What Can Be Done?'
Last week I attended a friend's ordination in Sydney and many of our colleagues who serve in the church. One of the things we were discussing was the pastoral approach to this COVID19. What are the important and sensible steps to look after ourselves, our church, family, friends and basically those who we encounter?
As our conversations continued, we identified those who are most at risk, what are some of the theological aspects and responses to this epidemic? We shared some of the challenges of being in a congregation role.
One of my friends said a member of her congregation is visually impaired and this has been challenging. When this person comes to church to be part of a community, the sharing of the peace is so significant because most visually impaired people rely on their sense of touch for pattern perception, which connects them to their surroundings. The congregant member was so upset that he no longed wanted to attend worship if they were to keep up with this "social distancing business". Some of us may like to offer some suggestions to resolve this issue.
So many aspects of this incident relate to Jesus' encounter with the man who was born blind. In actual fact, sometimes we move too quickly to make decisions and solutions without considering the simplest thing can be distressing for others.
According to the Gospel of John this morning, Jesus was walking along with his disciples and they saw a man who was blind from birth. They asked him who is to blame for the man's impaired vision and was it something to do with his parents or the man sinning. But Jesus replies with one of Jesus' most misunderstood sayings "Neither this man nor his Parents sinned; he was born blind so that God's works might be revealed in him. 4 We must work the works of him who sent me while it is day; night is coming when no one can work. 5 As long as I am in the world, I am the light of the world."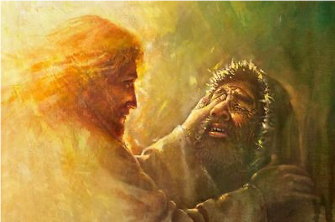 Then Jesus spits on the ground and makes mud and spreads it over the man's face and then tells him to go to the pool at Siloam and wash himself. The man is healed.
Then he comes back to the community to share his story but so many of the powerful and louder voices in this community refused to believe him. The Jews, Pharisees, the disciples, his mother and father, and those in the community who knew him. So, whilst he is healed by Jesus, the Pharisees lodge an inquiry into who healed this man, how was He healed, and why it was done on a sabbath. Is this man from God? Does he claim to be God?
Due to the doubtfulness of the Jews and Pharisees they went to the cured man's Parents, even to his friends and neighbours to check up on his story. These powerful people became so furious that they ended up driving him out of the town.
Jesus hears about this, so he comes back and offers him to make a further step in this new way of life that he has received. The actions and response from the cured man displayed adroitness but the Pharisees showed malice.
I want us to sit with John's gospel for a little while, "the book of signs".
Its prologue introduces the book "The author wrote in order that people might believe and have life". This morning's reading illustrates this through some of the hard questions about the "world and its people, Physical suffering, sin and death etc".
John's gospel has a way of setting us created beings in the very context of creation. John doesn't define who we are as created beings or Precisely describes what life is about. However, the characteristics in the imagery of John's gospel informs us that all created beings have a need for an outside source.
"A thirst for living water, hunger for the bread of life, a gateway to a sheepfold or a light to the darkness of the world".
John's use of these images shows Jesus as that source who brings life.
We are constantly reminded that we exist because of the creative activity of God. This activity of God is not a dualism but rather the gospel demonstrates that we exist within the situations of death, darkness, hunger and thirst, and in the reading from today it is about a physical need.
Physical suffering, healing and death, is a major theme in Johns gospel.
John 9 covers a large portion of discussions which follow a pattern of Jesus' encounter with individuals. In the former weeks we heard of his meeting with Nicodemus, last week it was the woman at the well. And here we are this week a similar pattern and contrasting scenes, the different genders, different locations, different social statuses of the people involved, and so on.
Nicodemus and the woman at the well encountered Jesus in a particular time of the day and night. Whereas the man born blind is labelled as the one who used to sit and beg.
Most interestingly there's the use here of an age-old technique used in teaching and in storytelling. It was also a standard aspect of the way that teachers of the Law operated in ancient Israel:
A question is posed, an answer is offered, leading to a further question, another response, and still further question-answer interchanges.
The method here weaves in some of the theological and speculating issues in the story. Some of them come from speculations:
The assumption of the disciples that physical suffering, and death is a result of sin. In fact, sin in this category for John is not connected to the actions or a hereditary curse. To be clear, Jesus is not saying that the beggar and his parents are sinless people. However, their speculations do not fit the situation of physical suffering.
The Pharisees speculated Jesus is not from God because does not observe the laws of the sabbath. and therefore, he cannot be from God.
In this passage we may raise some of the hard questions: If God is the giver of life, one may wonder why illness exist or why one person becomes ill and another does? One of the most misunderstood sayings of Jesus' answers to his disciples about the question of the father and mother sinning and Jesus says: "Neither this man nor his parents sinned͗ he was born blind so that Gods works might be revealed in him." NRSV Most English translations have stated this to be interpreted as God being the One who causes the man to be visually impaired.
Koester, The New Testament scholar suggest following the Greek translation without the additions to this verse is a helpful way for us:
"Neither this man nor his parents sinned͕ but in order that the works of God might be revealed in him we must work the works of him who sent me while it is day."
Jesus response to his disciples refuses to deal with speculations but rather how can he be healed through the works they are called to do. This doesn't understate the question of sin͘. However, Jesus refuses to engage in speculations that blame the interpersonal sin of one to be the result of another.
As I mentioned earlier the writer of Johns' gospel has an interesting pattern of characterising͗ the crowd, the parents of the man, the pharisees, and the Jews are the learners and they hold speculations. The teacher is usually the one who engages with some of the questions and in this instant, it is Jesus. The man born blind shifts between being the learner and the teacher. The conversation begins with the issue of sins, then the healing on a sabbath. The Pharisees are not happy because Jesus has breached the Jewish law of healing on the sabbath, he has touched an unclean person which is totally prohibited in their laws.
The narrative moves on to the religious leaders questioning how an ordinary person heals a man born blind. Clearly Jesus is pushing against traditions.
A vital part of the character of the man born blind, which is similar to the encounter between Jesus with Nicodemus, and the woman at the well is that once healed they all experience a type of epiphany during and after their conversation with Jesus, they all make a public faith confession and statement. This bold confession of the man born blind comes after the healing.
Rev. Squires writes:
"The man is healed in a most unlikely way. Other healings performed by Jesus and reported already in this Gospel have taken place simply by his word of command (4:47­-52; 5:6-9).
This one is different; it involves two distinctive features, both of which push against the boundaries of expected behaviour within the ancient Jewish context. Jesus uses spittle mixed with dirt to make mud, and then he physically touches the blind man as he applies that mud to his eyes (9:6)."
John's gospel has given us quite a detailed account of this story, and as readers it allowed Us to observe the ways in which Jesus dealt with speculations. Jesus does engage in some conversations, but he separates speculations as well asthis theological consideration of sin. Jesus moves to action by healing the man. He takes charge of what he sees as a pastoral need and what can be done! The story doesn't end with the healing, but the man confesses and engages in a conversation with the religious leaders. This is one of my favourite parts of the story when the Pharisees kept asking the man about Jesus:
" So, for the second time they called the man who had been blind, and they said to him, "Give glory to God! We know that this man is a sinner." 25 He answered, "I do not know whether he is a sinner. One thing I do know, that though I was blind, now I see." 26 They said to him, "What did he do to you? How did he open your eyes?" 27 He answered them, "I have told you already, and you would not listen. Why do you want to hear it again? Do you also want to become his disciples?"
It's quite a cheeky and funny response from the man. Nevertheless, for a mob of speculations it can be very daunting and confronting. Speculation is where most ideas are born, it is an excellent element in any field of research. In fact, theorizing of any type is how individuals start crafting methods for research. But sometimes theorising or sitting around and speculating means there are some facts in our conversation that prompts for action. It may also mean we need to move to what can be done. The story of the man born blind is about Jesus changing the social construct of this man's identity as well as Pushing against the cultural behavioural and expectation.
This change comes as a shock for those who hold power (Pharisees and Jews), the man's parents, the community and all those who knew him. These rapid changes brought about healing and it opened his vision to see. However, whenever there are changes that take place they come with challenges. The way Johns gospel tells us, Jesus meets with this man once again and he makes a bold public confession. The man's faith confession comes from the action taken by Jesus to heal his blindness. An experience that brought drastic change to his life.
In the midst of a time of fear and anxiety we all had a difficult transition from 2019 to 2020, the bushfires, droughts, water restrictions, shortage of toilet paper and other basic essentials. Now we are all trying to attend to the rapid changes that the COVID-19 pandemic brings to us.
However, Jesus has taught us to filter some of the speculations, primarily those that generate fear and panic.
The healing of the man born blind is a reminder to us about our role in this difficult time. Whether we choose to be part of the mob of speculators (we can sometimes lose ourselves in it), or whether we are like his parents (empower the voiceless to be heard or to let others know the voiceless have a voice), or we can shift to where Jesus is waiting for us to say "what can be done"
There are many pivotal moments in this story that we can take for our own reflection this week. That is the realisation of the believers to make that public statement of faith because  they have been healed, seen and touched by Jesus.
As we come to another week of uncertainty, may we be reminded of who it is that we encounter? At which part of our encounter did we or the other hear or see a need to filter speculations which allowed us to move to action?
Sometimes, we just need to filter speculations from facts! That leaves us with a hope that is not relied upon hoarding ourselves with basic utensils. But rather in such a time we are encouraged by the story of the man born blind to separate ourselves from the clouds of opinions, and speculation, to nurture our hope and faith in the midst of fear and panic so that we are able to find ways to serve and love others as Jesus has told us. We can make a choice, speculations that leads to fear! Or we can choose to separate facts from speculations which will lead us to love and serve which then becomes the hope we have in Christ.
Amen.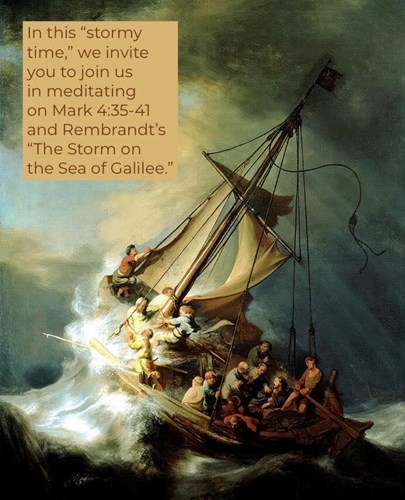 ---
ORDER OF SERVICE FOR SUNDAY 22nd MARCH 2020
Two songs:
Come now is the time to worship (Music Team)
Spirit of the Living God (Music Team)
Lighting of the Christ Candle:
Jesus said "Neither this man nor his Parents sinned, but in order that the works of God might be revealed in him we must work the works of him who sent me while it is day. night is coming when no one can work. 5 As long as I am in the world, I am the light of the world͘"
Call to worship:
Lead us gently, O' God, as we join in spirit to worship with the community of faith who are not physically present with us. With you, O' God, we have everything we need. You give us calm in the midst of stress, uncertainty, and fear.
The light of hope when the world seems to darken.
You strengthen and restore us.
You enable us to make the right choices, and sustain us in the fearful times.
You are a good friend to us.
You, O' God, are the source of a life that is faithful and fulfilling͖
As day follows day, as year follows year; all through life!
(Sparks, 2004, p. 75)
Song:
Be still for the presence of the Lord
Prayers of Praises and Thanksgiving.
(List some of the things you are thankful for:- )
Some of the things the psalmist 23 gives thanks for
The Lord as his shepherd,
restorer of the soul,
guidance,
Walks beside me, 5. comforter,
the provider,
the One who's hospitality extends beyond our own.
Loving God, we give you thanks and praises even in this time of rapid changes whether see,feel or hearing You are with us.
From the beginning of our time,
Your story and connection with us started way before then,
You know how to restore us souls
When it is restless,
You continue to guide us, especially in our darkest times,
Many times, we have been abandoned by others,
But You O' Lord assure us that, you are walking beside us,
When we are uncertain, worry and stress about our circumstance,
You are our Comforter, and Provider.
For you͕ O' Lord have shown us Your characteristic of Love,
To better ourselves to extend your service to others.
And for all these things we give you Thanks.
Amen.
Time for Confession
Confession in the Church is not about a guilt trip. We have connected with God as a community and as individuals through praise and prayer We know remember God's call to faith and discipleship and how we have lived into this.
Take some time to read: Ephesians 5:8-14
How have we lived well this week, not in terms of selfish indulgence, but in celebration of life and in service to God? How have we loved well this week ʹ showing the love of God, which we know in Jesus, to others?
(Rev. Jon Humphries)
Let us pray:
God of Grace,
Teach us to humbly celebrate our strengths,
We may be sinful people,
All falling short of your glory,
But at the same time we are created in your image,
And we bear your love to others.
There have been times this week when we have lived well,
Not in terms of self-indulgence and extravagance,
But in offering compassion, care, help and support to others.
There have been timed when we have loved well,
Bearing the fruit of the Spirit in our interactions.
There have been times when we have shared of our gifts in ministry of service to others.
Help us to call to mind these things,
And also to bring to mind the times we have seen others live and love well.
May we ever look to discern our gifts and grow our character strengths,
For we are your people, Christ,
And we follow you as your disciples,
Lead us further in your way,
So that we might grow deeper in understanding and faith.
This we pray.
Amen.
Sin-flu-ness
Healing God,
Christ who makes all well,
Heal our sinfluness,
That contagion of failings and shortcomings,
That infects our living and being.
May we not pass it on to others.
Make us well,
Through forgiveness and redemption. May we become immune to temptation, and Develop the spiritual antibodies to combat this disease of the soul.
Healing God, Christ who makes all well, may we become well beings and join in the Communion of the well-making of creation. This we pray. Amen
(Rev John Humphries)
Assurance of forgiveness
In Christ there is Healing, in Christ there is forgiveness, In Christ it is said "If we confess our sins, he is faithful and just and will forgive us our sins and purify us from all unrighteousness. (1 John 1: 9). So, we can declare that our sins are forgiven. Thanks be to God.
Scripture:  
1 Samuel 16:1-13
John 9:1-41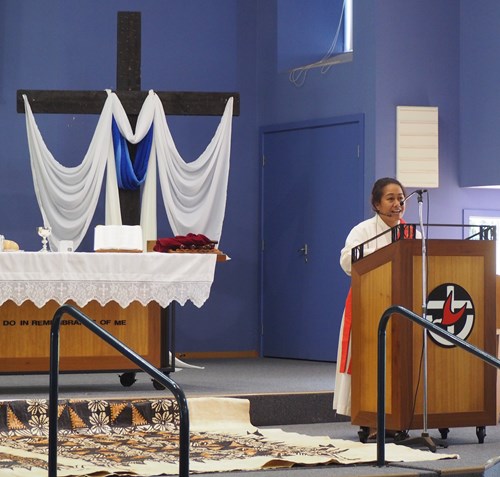 Taken at the time of Lofa's Induction
Sermon:  
Speculations vs. What can be done ?
Song:  
Blessed assurance (Hymn to be accompanied by organ)
Prayers of the People:       (Praying Philippians 4:8)
God,
There are many challenges
There are sadnesses aplenty
And suffering abounds
Help us guard our hearts and minds when faced with the challenges of life by keeping us in Christ, Jesus.
Remind us that your love, grace, compassion, comfort and support is true,
That many are giving of themselves in the care, help and service of others often at great personal risk or cost.
Remind us that there are people who are good, and good is to be found in people,
For are we not created in your image?
Recall to our minds and hearts the inequity and injustice in the world, and that you just call us to join you in working for what is good and right and just,
Guide our focus to what is pure, such as kindness, patience, peace, goodness gentleness and other Fruit of the Spirit.
Call us afresh to the care and support of the vulnerable,
Friendship to the lonely, isolated and outcast,
And work to change the plight of the poor.
Move us as individuals and communities to mission and ministry through love and good deeds,
As we meditate on your Word, Engage with you in prayer, And discern your call to action,
Being inspired by you and those who live your love in real and excellent ways.
Finally may we continue in prayer,
Seeing all that is worthy of praise,
The good in you, The good in your world, The good in others, The good in ourselves
Remind us to continue to think about these things,
And let them lead us deeper into prayer. So, we pray.
Amen.
Spend some time thinking of those who need prayer and whom need comfort, support and help. Pray for those people, places, situations and circumstances.
(Rev. Jon Humphries)
Song:  
O for a Thousand Tongues to Sing TIS 210 (Hymn to be accompanied by organ)
Benediction and sending forth:
Jesus the light of the world will lead us carefully to know others by their names not the labels,
Jesus the light of the world will lead us carefully to be wise in times of distress, fear and uncertainty,
Jesus the light of the world, will lead us to be brave for God knows our strengths and limitations,
Jesus the light of the world, will lead us in faith and bring us back to the light of God.
Amen.
Song:
May the feet of God walk with you TIS 779 (To be accompanied by organ)